Welcoming City: Karen Community shares culture with Lincoln community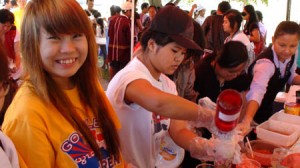 Lincoln is among the first Welcoming Cities in the country who recognize the contributions immigrants make to creating a vibrant culture and a growing economy.
On Saturday, January 4 Lincoln Mayor Chris Beutler joined the celebration of the new year hosted by Karen Society of Nebraska.
"It is important to me to welcome you to this place as your new home," Mayor Beutler said through an interpreter.
The city is lucky people from many different cultures have decided to make their homes in Lincoln, he said.
"We encourage you to share your culture with the entire community, like the event you've planned today," Beutler said. "It's important we all continue working to build bridges with people who come from old and rich traditions."
Karen people came to Nebraska primarily from Thailand refugee camps after fleeing Burma's civil war. Celebrations like this New Year's celebration create opportunities to share and to learn about the culture of new neighbors.
Read more in this story from the Lincoln Journal Star: "Lincoln's growing Karen community celebrates New Year"
About the author
Comment on this post