Holocaust survivor's story told in Omaha with 'Fabric of Survival' quilt project
This is a guest post from Rachel Peric, Deputy Director of Welcoming America and a board member of Art and Remembrance.
In 1977, at the age of 50, my grandmother, Esther Nisenthal Krinitz, decided she wanted her family to see what her childhood home in Poland looked like. A survivor of the Holocaust, my grandmother had lost almost everyone she loved in the world. Out of her family, only she and her sister had survived.
Beginning with an image of her home, and later, a dream from the war, my grandmother began to tell her story through the medium she knew best – sewing.   Stitch by stitch, she brought to life the family that she had lost and the story of her survival. Before she passed away in 2001, my grandmother created a series of 36 embroidered fabric panels that narrate and depict life before the war and her harrowing experiences of living through the Holocaust.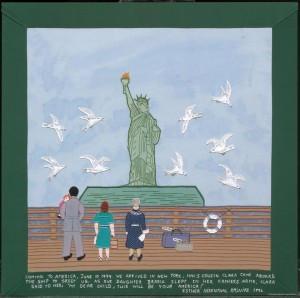 The exhibit of her work, Fabric of Survival, is now on exhibit in Omaha at the Kaneko Gallery, thanks to the support of the Institute for Holocaust Education, in partnership with Art and Remembrance.
After surviving the war, my grandmother made her way to America with her new family.   Not only a Holocaust story, my grandmother's story is an immigrant story.  And much like my grandmother, today in Omaha, a new generation of immigrant youth who have extraordinary experiences of their own are also finding their voice and stitching their own remarkable artwork through a project called The Quilted Conscience, on display at the Joslyn Art Museum, KANEKO, and the W. Dale Clark Main Omaha Public Library.
For many Jews like myself, the powerful act of remembrance is lived out when we are exposed to stories like my grandmother's, or other survivors still living here in Omaha.  But we can also find even greater healing and deeper meaning when we encounter the stories of newcomers to Omaha and discover universal connections to our own past.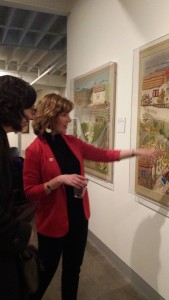 The same strength, resilience, and creativity that my grandmother brought with her to America is evident in the stories of immigrant youth here today in Omaha. For this reason, perhaps the Jewish community can play a unique role today in helping to bring forward these newer stories of courage, and welcome the next generation of youth from around the world to Nebraska.
Fortunately, initiatives like Nebraska is Home, hosted by Nebraska Appleseed, and part of the national Welcoming America network, are here to help.  In Omaha, and across the state, Nebraska is Home is fostering more inclusive communities – places where regardless of where you are born or what you look like, you are valued and welcomed.
Nebraska is Home and The Quilted Conscience will be helping to bring diverse community members to see Fabric of Survival, creating a new generation exposed to this powerful story, and also empowered to share their own. Together, they will create a new rich tapestry that weaves together the old with the new, the past with the present – and, it is my hope,  a uniquely Jewish story of survival and immigration with the story of newcomers to Omaha today.  I hope you will join us.
About the author
Comment on this post