Immigrant Heritage Month – Fernando and Cameron
"The big realization for me when I left my insulated town was that I have no idea what it is like for other people to live."
Fernando's story: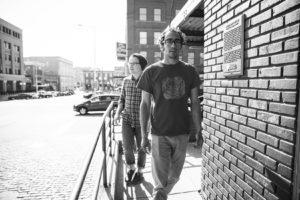 I am from El Paso, Texas. I guess I am a first or second-generation immigrant. My grandmother is from a small village outside Chihuahua, Mexico. My dad is from El Paso, Texas. He was raised in Ciudad Juárez, which is on the border.
I was born in Austin, Texas but raised in El Paso. It is very much like Mexico; the population is over 80 percent Mexican. The food, the culture, the family are all very important to us.
How did I end up in Lincoln? Scholarships. It was between here and Albuquerque, New Mexico, and Albuquerque is very similar to El Paso, so I decided to go somewhere different. I had never actually been a minority before coming to Lincoln!
Growing up, I was raised Mexican, but I am sort of the black sheep in my family because I don't speak Spanish. My mom is the epitome of Tex-Mex. She looks Mexican, her family is all from Mexico, but her Spanish is very broken. I consider myself Mexican, but if I tell that to a Mexican exchange student, for example, they would say I'm not Mexican because I don't speak the language.
Cameron's story:
My great grandfather is from Switzerland. He came over sometime after World War II. I'm originally from Scottsbluff, Nebraska, which is closer to Denver. It is a predominantly white area. General education of issues has been a very real challenge for me after having left home. I didn't even think climate change was real until I got to college. They didn't teach it in our high school.
The big realization for me when I left my insulated town was that I have no idea what it is like for other people to live. Now I have just become a lot more open to everybody's perspective and experiences.
About the author
Comment on this post