Nebraska communities celebrate largest Welcoming Week ever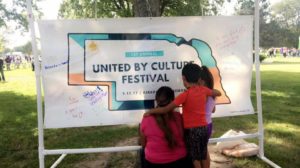 Nebraskans showed their commitment to strong, inclusive communities with events across the state that brought together new and long-time neighbors during Welcoming Week 2017, the largest ever in Nebraska.
From South Sioux City to Lexington, from Crete to Omaha – Nebraskans hosted potluck meals, film screenings and community festivals.
This year there were more than 700 events across the country where community members came together to recognize that being a welcoming community for all makes us stronger economically, socially, and culturally. Nebraskans volunteered with citizenship clinics, learned struggles of young people learning English and preparing to graduate from public schools, and gathered in support of young Nebraska DREAMers.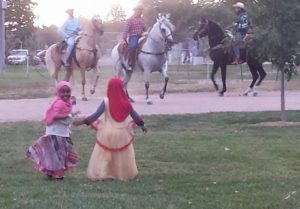 We recognized that being a Nebraskan is what unites all of us while coming together over music, food and fun!
Neighbors came together to share potluck meals in Hastings and Sioux City (where the event crossed state borders with neighbors from Nebraska, South Dakota, and Iowa). In Lincoln, people gathered to share an Ethiopian meal and learn about the food, the hospitality, and the story of the chef. They finished with dessert at a Turkish bakery owned by a young Yazidi refugee who learned to make the delicious treats after fleeing Iraq and living in Turkey. Neighbors shared dance, culture and great food at United by Culture in Lexington.
Refugees exchanged stories with their neighbors at the Omaha South Library. More neighbors learned about the challenges and triumphs of students learning a new language and the education system in a new culture.
Across the state community members showed that inclusion starts where you live and shared their own welcoming messages that included "Bienvenidos," "A Welcoming Nebraska is the best Nebraska," "From one immigrant to another: You are welcome and loved here," and "You make our community complete."
See more Welcoming Week photos on our Facebook page
About the author
Comment on this post